A practical and easy way to make sure that 2-component paint is mixed in the correct mixing ratio when mixing smaller quantities.
One of the worst times I have had at sea, was when I as a cadet had to clean uncured primer of the tank-top of a pump-room.
It took me 2 weeks, +20 liters of thinner and an unknown number of braincells to make the area ready for painting again.
Doing this once will teach you to by all means, to avoid it again .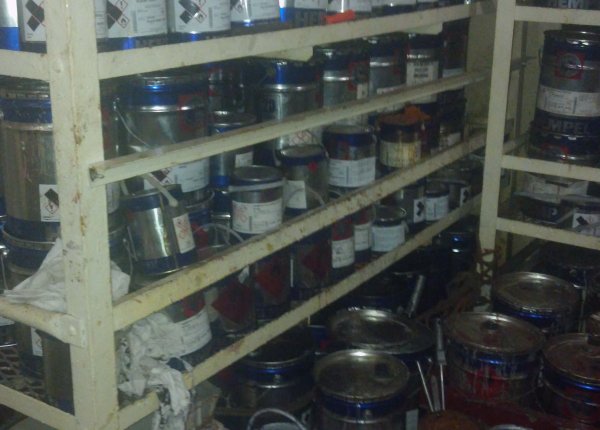 As a chief officer, I have often seen that the mixing ratio has been wrong in either direction.
Usually by adding in a little extra to avoid being in the same situation as me.
Use too much and the paint may crack and too little and it will be soft and receive dirt.
Both causing the paint to fail too soon.
To keep the good properties of the paint, the mixing ratio should be accurate within 5%.
When mixing paint in DD one full drum of the time or when using a whole or half bucket onboard the mixing ratio will be easy to see.
I don't think I have ever mixed a full 20 liter drum out side of dry docks.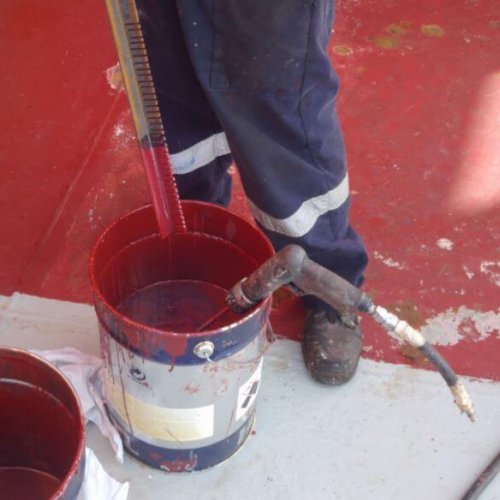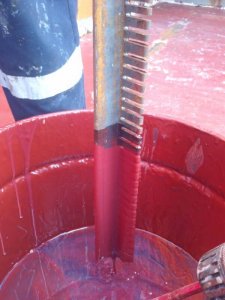 A very practical method is to make a "Mixing Stick" which is easy to make and use when mixing.
Take an angle bar and cut a mark at every 1 cm with a grinder
I usually make 2 sticks. 1 for the 20 liter drums with 30 to 40 cuts and 1 for the 5 liter drums with 15 to 20 cuts.
If the mixing ratio is 3:1 then mix in 3 cm of paint and then 1 cm of curing agent.
Make sure to pour the curing agent slowly, then it will make a nice interface that will be easy to see.
Making this Measuring stick takes about 20 minutes but is an Efficient, Practical and Easy way to save a lot of work and confusion onboard
One easy way to check if the crew is mixing correctly, is to count the paint drums and match them with the curing agent.
The risks are that 30 additional drums of curing agents they will expire and be 150 liters of chemical waste that takes up space in the paint locker.